In the early 1980's church life around Southwestern Baptist Seminary in Ft. Worth, Texas, offered a selection of great churches. Dr. Joel Gregory preached at Gambrell Street Baptist, where professors fawned over his oratorical powers that mouthed "cherubim and seraphim" like he was sampling delicacies at Trader Joe's. The flagship Travis Avenue Baptist Church, surrounded with aging housing the church was inclined to bulldoze for more parking, heralded its footprint with a steeple seen for miles and an unmatched musical program. We gravitated toward a smaller, more "Spirit filled" Southern Baptist church that prided itself on uplifting worship.
Sunday School for young adults was held in a room that could easily accommodate 30 people, with smaller classrooms surrounding the meeting area. The sliding curtains of these rooms were always shut. Sunday after Sunday we met in the darkened main room, which had no windows. The bright Ft. Worth sunshine could not penetrate our class, which had the same lighting as a funeral visitation. I began to ask myself, "Why is it so dark in here? Where are the windows?" One Sunday I peeked behind the closed curtains and saw classroom furniture jumbled between which windows filtered that Ft. Worth morning sun. I resolved to clean up the mess.
What Goes on Behind Closed Doors
One weekday I volunteered to cleanup the seminarian classroom and wondered, "How did we bright minded seminarians fail to see the condition of our own classroom?" As I rolled back the doors of the classes, I saw every room had large windows, with furniture tossed in like a preschool party after which spoiled toddlers scattered plastic LEGOs across the floor.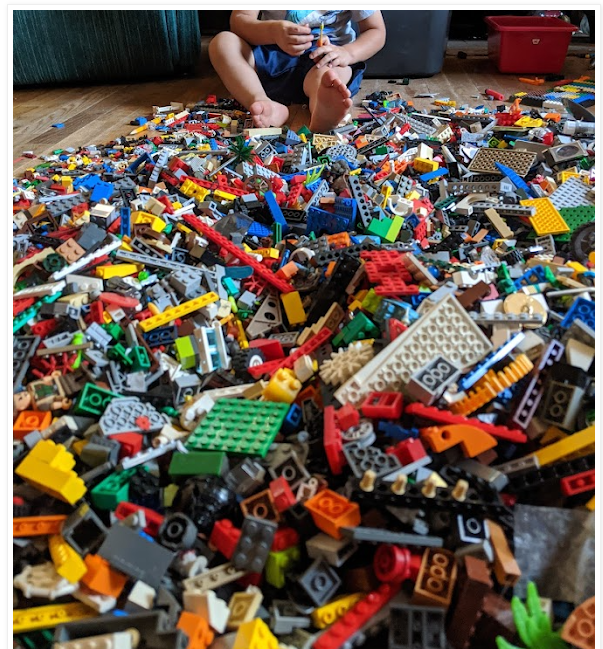 Courtesy of https://www.mommymaestra.com/2021/10/brick-stamped-apple-tree-activity.html
A little exploration revealed basement stairs that descended into what would be an insurance adjuster's purgatory. Two inches of water flooded the entire basement floor. Across from the doorway stood a high voltage breaker panel for the building. As a safety feature, rather than address the flooded basement, someone laid wooden pallets from the door to the breaker panel as a way to reach the panel without standing in ankle deep water.
"What would a firefighter do trying to reach an energized panel in the dark, on across a flooded floor, walking on pallet boards spaced wide enough to capture a foot?" Meanwhile, week after week, the heavenly minded seminarians studied biblical principles that lifted them above the cares of this world.
Cleansing the Temple
Realizing the flooded basement was well beyond my scope as a volunteer, I shut the door somewhat in shock to this day how the leadership could be detached from the condition. So I began work on what I could and pushed back the sliding curtains, cleaned and organized the surrounding unused classrooms. Once the curtains were retracted with furniture arranged less like a tsunami victim and more like a place of education, I marveled at the beauty of the light that beamed into our dank meeting hall. It was transformed as though angels were ascending and descending on these shafts of light.
No Good Deed Goes Unpunished
Come Sunday I entered excited to see the reaction of the class to the newly cleaned classroom building. Bright and cheery replaced the mausoleum we once called our class. To my shock people reacted the opposite of what I expected.
"What happened to our classroom?" "Who opened these curtains?" "Why is it so bright in here?" " We liked it the way it was!" "Who gave permission to change our room?" And so the lament continued as seminarians mourned the passing of their dark space into the light.
My initial shame morphed into an understanding of human nature as it came to church work. Below a few insights will hopefully help those who find a bucket placed over their newly lit candle.
Carving the Underside of Pews
The monks in the medieval church carved the underside of pews in the belief that God was aware of not only that which was presented and prominent but also the underside, hidden area of our lives. Considering the monks' example, I put in to practice a strategy that I've used pastoring churches and volunteering in the same.
Misericord carved underside of church seat from the church of Saint-Prix in Noizay (Indre-et-Loire, France), depicting an angel. See Wikipedia
Open Closed Doors
When I served as a Chaplain Extern at Baylor Medical Center in Dallas, I became familiar with the "Ministry of Wandering Around," which is different from "Wandering Aimlessly." Clergy become creatures of habit, entering their office the same way, week after week, asking no questions, head down in "holy autopilot" and off to the next meeting.
In my first church, I found a church library that was used as dead storage locker for Sunday School quarterlies decades old. At another church a church janitor's mop sink sat filthy and filled with unused dirty mop buckets and soiled mops. Another hidden closet revealed the chair carefully placed under the hole torn in the duct board where the custodian would take his air conditioned afternoon siesta hidden from the Arizona sun and from the church staff for that matter. No one knew where he went for those hours.
I asked the facilities manager from my wife's school to survey our church campus and opine on upgrades and whether the work was too much for one person to do in a week. He laughed about the "too much work" and went on to suggest mop sink soap dispensing stations. His insights created a new day for our church.
No closet was safe from our scrutiny. We found electric panels in which copper pipes had been inserted for fuses and non GFCI receptacles that were used with extension cords on wet grass.
As a result of the above, an unused library junk room was transformed (after a pickup bed was loaded with faded quarterlies) into a youth meeting room, with walls opened between. Handicapped bathrooms and bridal dressing area were built. Sound systems were upgraded and installed.
We formed a DIY team at the church empowered the lay members to "Open Doors" and carve the underside of pews. This really happened in that once project involved removing all the old pews and reinforcing the underside then reinstalling them.
A Road Less Traveled
Along with opening doors, take a road less traveled to church. At one church I parked on the street where church members walked. The path was so dark, I could not see to put my foot on the curb. I worked with our brilliant new Facilities Manager, Alberto Hernandez (who is now retired and serving as a pastor of his own church) to recandle parking lot lighting and to add additional path lighting.
With Facebook streaming the rage since the pandemic, walk the virtual paths. Yesterday, I watched the Facebook service for our church only to find that the sound level for the pastor's sermon was so low I could not hear him without switching from my phone to my computer with speakers turned up 100 percent.
Pickleball and Other Grouse Hunts
Virtual paths can be just as jumbled as the classrooms in Ft. Worth. Our present church publishes every week "Monday – Pickleball 5:00 p.m." So, I showed up with my paddle, only to find the hall empty. "Maybe an off week. I'll try it again." The next week, the same empty hall. The bulletin continued to announce the event.
One week as I accompanied my wife to her handbell choir she directs, a ringer said, "I hear you are wanting to play pickleball. They have been meeting off campus but should be here next week. They don't like to have too many players. So they don't advertise too much."
She introduced me to the handful of players present that night. The next week I showed up interested; no one was present in the hall. Perhaps the risk of having a new player threatened their closed group pickleball party as the church bulletin continued on "autopilot."
Your homework this Sunday – open a new door and follow a new path.
"See, I have placed before you an open door that no one can shut …" – Revelation 3:8.
Pastor Jim
Postscript
Taking my own medicine for looking behind doors, I checked the "Contact Us" link for this blog and discovered the email notifications were no longer received. I called Go Daddy who said that for a simple programming fee of $450 they would fix the issue. Short version – I was able to create a free Brevo account and installed a free SMTP form to resolve the issue after some gnashing of teeth.